ITEM DETAILS : CANON 2570 All-In-One InkJet Printer 
FEATURES: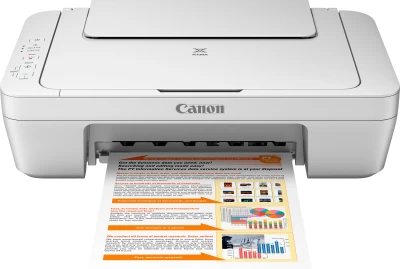 This compact and lightweight printer can be used for multiple purposes. It can be used for basic printing (even color prints), copying and scanning.
Output Quality
The maximum color print resolution of this printer is 4800 x 600 dpi. It is capable of Contact Image Sensor scanning with an optical resolution of 600 x 1200 dpi and color scanning speed of 14 seconds.
Interface
Use the USB 2.0 interface to connect your printer to your computer system and take print outs. This printer is capable of Auto Power ON which automatically switches on the printer when it detects a print command, provided it is connected to the device via USB.
TECHNICAL DETAILS:
Model

Brand 

CANON

Series 

Pixma

Recommended Use 

Print, Scan, Copy

Printer SPEC

Print Technology 

InkJet

Black Print Speed 

Approx. 8.0ipm

Color Print Speed 

Approx. 4.0ipm

Number of Nozzles 

1,280 nozzles

Paper Handling / Media

Media sizes supported 

A4, A5, B5, Letter, Legal, 4 x 6", 5 x 7", Envelopes (DL, COM10), Custom size (width 101.6 - 215.9mm, length 152.4 - 676mm)

Hardware SPEC

Power Consumption 

Approx. 1.0W(Standby (scanning lamp is off)(USB connection to PC), Approx. 0.4W(OFF),Approx. 9W(Copying (USB connection to PC)

Ports

USB Ports 

Hi-Speed USB 2.0

Compatibility

Windows Compatible 

Windows 8 / Windows 7 / Windows Vista / Windows XP

Macintosh Compatible 

Mac OS X v10.7.5 and later

Physical SPEC

Dimensions 

Approx. 426 x 306 x 145mm

Weight 

3.5 kg

Copier SPEC

Copy speed 

Approx. 1.6ipm

Scanner SPEC

Scan Resolution - Optical 

600 x 1200 dpi

Scan Technology 

Flatbed CIS

Fax SPEC

Color Fax 

N/A

Warranty

1 Year
Frequently Asked Questions
What can I return?
You may request returns for most items you buy from Rigassembler, except those that are explicitly identified as not returnable.


How much time you take to ship my order?
We take 2-3 Days maximum to ship order all over India.
Do you ship at my location?
We ship in all states located in India.
What if i get wrong part?

We will Exchange it with no additional cost or we can also return the Amount at the same day of the return.
What if i get damaged part?

We will Exchange it with no additional cost or we can also return the Amount at the same day of the return.
Do i return product with no reason?

Yes, we are giving 100% Return without any question.


When will I get my refund?
Refunds back to Credit Cards, Debit Cards, Net Banking or Bank Accounts (NEFT) are fully refunded within a day after we receive and process your return. Refunds in form of cheques can take 3-7 business days to arrive via post. Refund in the form of Gift Cards can take 1 business day.

Does Rigassembler do replacements?
Rigassembler offers free replacement for orders. Follow the steps in the Return Center to request a replacement for your order.
Learn more about Replacement policy


Returns are easy
Returns Centre
Start a return
Return items you ordered
View return status
Print return labels and check the status of your recent returns